click here for artist statement
Kwality Chai is a playful and subversive exploration of cultural imperialism in a distinctly Australian context. Set in an alternate reality in which India has taken control of Australian culture, Kwality Chai stages a participatory performance that revolves around the making and serving of chai.
Kwality Chai
2017
Video
8:48 mins

Kwality People
2017
Video
9:00 mins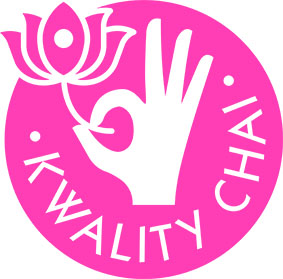 Kwality Logo
2014
Injet print & Vinyl 
Kwality Times
2014
newspaper, ink

CREDITS

My gifted collaborators who enabled the realisation of this epic work are:
Kwality Chai & Kwality People
Producer and Drama Director: Shash Lall
Actors: Sharon Johal, Luke D'Emanuele, Dushan Philips,
Jan Di Pietro
Narration: Vinod Vijayan
Character development: Michael Warnock
Kwality Chai
Set design: Eugyeene Teh
Videography: James Wright
Chat Pat Radio & Atmos
Sound Design and installation: Byron Scullin
Kwality Times
Writing Aarti Betigeri & Sonia Nair
Editing: Annisa Dharma
Vox pops
Characters/voices: Mary Soderiou, Kavitha Reddy,
Indira Narayan, Clement Paliguru, KP Saratchandran
KWALITY ARCHIVE


2014-2107



This archive brings together a selection of development processes that went into creating the alternate reality. From the background narrative, to the creation of the characters, cafe scenarios, costumes, stage and logo design.



Kwality Lingo
Video
6:44 min 
Kwality Moments
Video
3:18 min

Kwality Journal
Folder, paper, photographs, posters
Contents: Kwality Chai background narrative, rehearsal resources, "look book", posters
GRANTS/SUPPORT

This work would not exist without the generous funding and support of:
The Australia Council for the Arts (OZCO)
City of Melbourne, Creative Victoria (formerly Arts Victoria)
The Besen Family Foundation
Creative Partnerships Australia
Metro